Citrus Cheesecake, from Sarah Copeland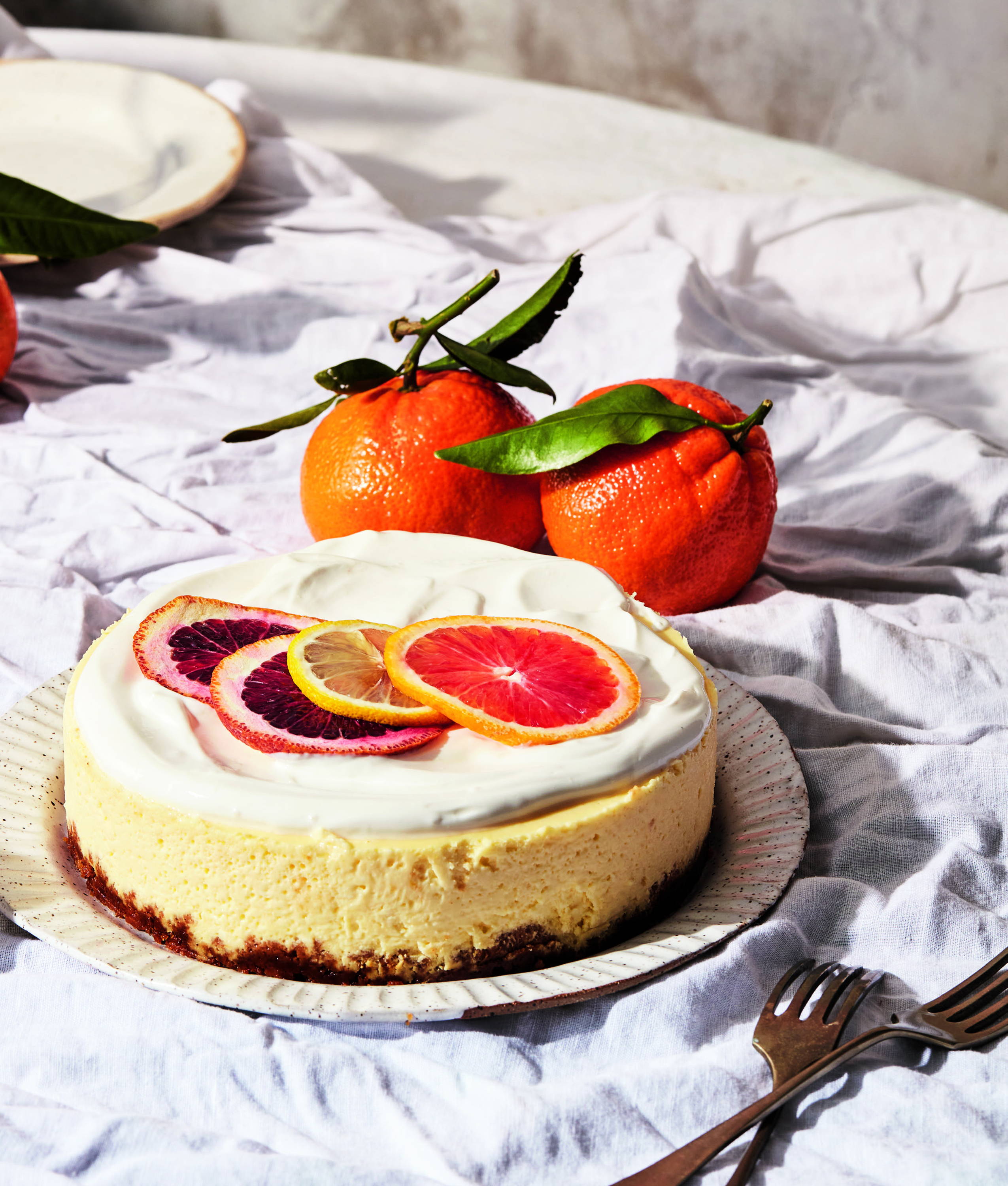 A Double Citrus Cheesecake for the Holidays

Today, as I write to you, I'm sitting in the dining table room by the Christmas tree, my ten-year-old doing her school work by my side, my five-year-old running circles around us both. It's not exactly peaceful, but there is peace in these moments at home – not rushing to and from. Not layering and bundling to rush off to work and school. The stockings are hung. There's a feeling of anticipation for the week to come.
We can enjoy these little gifts, mostly, because our bellies are full. Our fridge is stocked, our pantry lined. We are not worried about where our next meal comes from. There's space for checking off lists, for moving the elves, keeping the magic alive. I can't imagine it otherwise.
And yet, in our country, 1 in 5 families is food insecure this holiday. Just this season alone, FEED has helped provide 1,431,161 meals (and counting) to children in need. And there is still need – great, great need.
This is not new. Food insecurity has always been right under our noses. But this year more than ever, great love and generosity is required. From me. From you. From all of us.
This is the season of giving, above all else. Of hope, of faith in humankind, and our own goodness. Now we must give, and give greatly – of ourselves, of our resources. Lift our hands to others.
Below, I'm sharing a recipe from my new book, Instant Family Meals, for filling your family's table this holiday season. And Here, at this link, is an easy, effective place to donate whatever you can this year, to help support school meals (and free meal pick up options) in America, via No Kid Hungry (FEED's U.S. nonprofit partner).
Both are delicious, both will fill your spirit and heart in the days to come. Please join me in choosing to love greatly in our own homes, and into another's, too.
Happy Holidays!
Sarah
The Recipe:
Prep time: 30 minutes
Total time: 5½ hours
(includes chilling)
Serves 8
Vegetarian
Ingredients:
Nonstick cooking spray
20 thin almond or ginger
cookies, or 10 full-size
graham crackers
4 tablespoons (½ stick) unsalted
butter or coconut oil, melted
½ teaspoon fine sea salt
2 (8-ounce) packages cream
cheese, at room temperature
2 tablespoons heavy cream
1⁄3 cup granulated sugar
1 tablespoon cornstarch
1 teaspoon vanilla extract
2 teaspoons finely grated lemon
or lime zest
2 tablespoons fresh lemon juice
2 large eggs
For the Topping
½ cup sour cream or crème
fraîche
1 tablespoon confectioners' sugar
Equipment:
6 by 3-inch or 7 by 3-inch round metal cake pan with a removable bottom
or 7-inch springform pan
Coat the cake pan with cooking spray. Lay an 8-inch square of paper towel on a 10-inch square of foil and use it to wrap the base of the cake pan. (The paper towel should sit between the bottom of the pan and the foil; it is there to absorb moisture and keep your crust from getting soggy.)
---
Transfer the crumb crust to the prepared pan and press into the bottom in an even layer with a flat-bottomed glass or jar. Place in the freezer to chill while you make the filling.
---
Beat the cream cheese, cream, sugar, cornstarch, and the remaining ¼ teaspoon salt with an electric mixer until smooth and lump-free, 1 to 2 minutes. Add the vanilla, lemon zest, and lemon juice. Add the eggs, one at a time, and beat on low until smooth but not aerated, about 30 seconds per egg.
---
Pour the filling into the prepared crust and tap on the counter to remove any bubbles; smooth the top with an offset spatula. Cover the pan tightly with foil.
---
Pour about 1 cup water into the inner pot of the pressure cooker. Place a trivet in the pot and set the cheesecake on top. Lock on the lid and Pressure Cook on high pressure for 38 minutes. Let the pressure release naturally (about 25 minutes); don't rush the release or the cheesecake will be undercooked.
---
Open the lid and carefully lift the pan out of the inner pot. Remove the foil, taking care not to let any condensation drip onto the cheesecake. Let cool on the counter for 1 hour (the center third of the cheesecake will still be wobbly but will set up as it chills), then refrigerate for at least 4 hours, or until set.
---
Meanwhile, stir together the sour cream and confectioners sugar. Spoon over the cooled cheesecake and spread in an even layer.
Reprinted with permission from Instant Family Meals by Sarah Copeland, copyright © 2020. Photographs by Christopher Testani. Published by Clarkson Potter, a division of Penguin Random House, LLC.