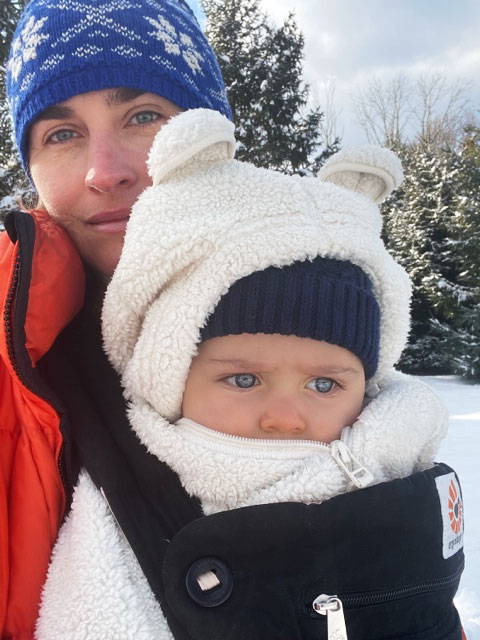 Letter from Lauren: January

Happy 2022! Every year I start the new year with resolutions, leaning into the pressures that we all feel to embark on a "fresh start," set lofty goals and resolutions, and come to enlightening realizations. It's the end of January and I've already fallen behind on my intentions to start my mornings with meditation and journaling, to carve out special one-on-one time with each of my boys every week, and learn to play piano (among other goals).
These goals – some more lofty than others – are designed to be my intentions and aspirations for the year ahead. As I grapple with these goals, I'm coming up against a new resolution of sorts – to be mindful of the delicate balance between striving for self-improvement and a better way of being, while remaining realistic and being kind to myself. Because let's be honest, there is only so much a working parent with three little boys can accomplish in one day. It is something I candidly struggle with, trying to pack it all in and cross everything off my list.
I recently listened to an "On Being" by Krista Tippet podcast where she interviewed the journalist Oliver Burkeman, who often writes about productivity and time management. It was like exhaling a breath I had been holding for longer than I care to admit – convincing myself that if only I could be better, more intentional, more precise with how I do things and how I coordinate my work and life – then I could have it all, do it all, be it all, and enjoy it all. Oof.
Oliver Burkeman describes this as "the desire to somehow lever yourself outside of the unfolding processes of life. To achieve a dominant position above and separate from things, like some kind of godlike air traffic controller – to be the master and commander of your time." So, as I exhale, I am trying to relinquish my role as 'air traffic controller' and trust the journey more – allowing for change, flexibility, more fun, and ultimately, for a more present way of being and showing up for my family, friends, and for FEED.
I'm sure this sentiment is something we all can relate to. So as we close out the first month of a new year, let's resolve to be gentler with ourselves and each other and take a big (big) breath. We'll all be better for it.
We have so much good stuff on the horizon for this year (which I am so excited to share with you when the time is right) and so much more good to do in continuing to make sure the most vulnerable children in the U.S. and around the globe have access to free and healthy meals in school.
Until then, thank you for reading this and more importantly, for joining our movement for another year, helping us to do a world of good.
Here are a few things I've been loving & living in this past month

I have long used Pinterest privately for making design inspiration boards for FEED, when decorating my house, and for sheer escapism and wanderlust. And I now want to share the visual goodness and inspiration with you all! I am also going to curate a board every month with things that I have been shopping, reading, browsing, and loving – check out (and enjoy) my January Finds!
What are the best small things to do to help hunger?
There is so much we can all do to help fight hunger. Firstly, we can donate – small donations go a long way and consider giving on a recurring subscription basis. Those are donations that organizations can count on and plan for each year. FEED's giving partners, the UN WFP, Akshaya Patra, and No Kid Hungry are a great place to start! You can also volunteer your time. Find a local food bank or soup kitchen that needs your manpower. Many of these organizations rely on volunteers to operate every day. Finally, you can vote and advocate. Make it known to leadership, elected officials, and to your community that hunger is an issue to care about.
---
Shop my January Favorites: